Bridge (Billet Box/Dot Aio)
Bridge or Carto atomizers are atomizers that cannot work alone. Their vocation is to integrate into already existing systems such as Billet Boxes (Boro Tank) or tanks which accept cartomizers / bridges (Loki Tank, Tell ...). Out of stock
This new bridge atomiser by Mission XV is highly anticipated by Billet Box users. But not only... This high-end quality "Boro box friendly" atomiser has all the assets to seduce boro box fans (Aspire BOXX, Zero Boro, Ambition Mods 2.0 Boro mod...) . 
   Bridge atomiser                                                Single coil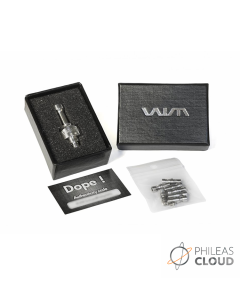 €174.92
Excl. Tax
€209.90
Incl. Tax
Out of stock
Dope RBA - VapeWare Mods
The Bridge atomizer Dope from VapeWare Mods is eagerly awaited by Billet Box and other Boro Box users. It is distinguished by its quality of manufacture, its many inserts to find the airflow that suits you best but also its rarity, small series requires.
  Bridge Atomizer                                                  Single coil