RDA atomizers are rebuildable atomizers without tank, although sometimes they can accommodate a tank allowing to have 1 or 2 ml of liquid. This type of reconstructable atomizers is dedicated to people who wish to regularly change liquid, test liquids or have a hotter vape than on atomizers with tank (RTA) for example.
RDTA atomizers try to combine the advantages of RDA and RTA. They actually offer a tank with a dripper-style vape: denser and hotter vape than on a tank atomizer. €79.08
Excl. Tax
€94.90
Incl. Tax
Out of stock
AllianceTech Vapor, the french modder is back with the newest member of the Flave Family: The Flave EVO 22 SS!
Flavor atomizer Single coil
Delivered with BF Pin €0.00
Excl. Tax
€0.00
Incl. Tax
Out of stock
Caspardina RTA-RDA - Golden Greek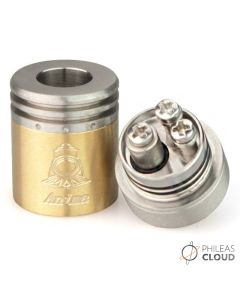 Out of stock
Anima rebuildable atomizer dripper, classic version (hot vape) and ice version (tepid vape).