Le modeur grec Vape Ware Mods est un modeur reconnu sur le marché de la vavpe avec quelques licornes à son actif : Imperia RTA, Integra RTA pour ne citer qu'eux. Le dernier atomiseur VWM est un atomiseur dédié aux boro box ( Billet Box, Exode Box, Boro Box...) : le Dope RBA.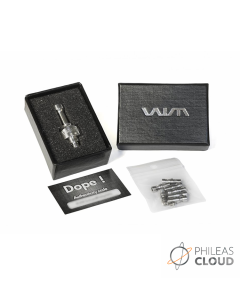 €174.92
Excl. Tax
€209.90
Incl. Tax
Out of stock
Dope RBA - VapeWare Mods
The Bridge atomizer Dope from VapeWare Mods is eagerly awaited by Billet Box and other Boro Box users. It is distinguished by its quality of manufacture, its many inserts to find the airflow that suits you best but also its rarity, small series requires.
  Bridge Atomizer                                                  Single coil